Q-H323-to-SIP viceversa ™


A standalone server that transparently and seamlessly converts a H.323-compliant VoIP call to one that is SIP-compliant and vice versa
Designed to enable SIP-Compliant Service Platform to interoperate with
H.323-compliant gatekeeper and endpoints (Gateways & IP Phones) and
H.323-Compliant Service Platform to interoperate with SIP-compliant endpoints
Q-H323-to-SIP viceversa serves as a versatile gateway between a H.323 network
and a SIP network
Q-H323-to-SIP viceversa offers great benefits to both the Service Provider and the Enterprise users.
SIP-based solutions have significant advantages over H.323 solutions because SIP allows for the scalable and extensible implementation of an array of multimedia applications (such as instant messaging), which is not supported by H.323. It requires less overhead than the H.323 protocol and also provides faster setup times for voice over IP.
It allows an organization to migrate and adopt SIP-based solutions without having to discard their initial investment in any H.323-based endpoints. As SIP-compliant IP Phones and gateways will gain greater adoption than H.323 endpoints, an enterprise should migrate and evolve its VoIP network with SIP-based solutions.

Application Diagram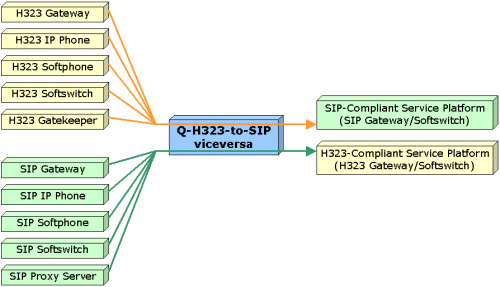 Specifications
Supports SIP and H.323
Communication can be originated from either SIP or H.323 endpoints
Supports, G.723.1 and G.729 (A, B) audio codecs (G.711 Mu Law and G.711 A Law upon request)
Supports H.323 FastStart and SlowStart for outbound H.323 calls
Supports H.323 FastStart for inbound H.323 calls
Supports H.245 tunnelling
Physical Description: Robust industrial grade server running Linux 9.0 operating system in a 19"-rack-mountable metal chassis (customer may specify the capacity of the components of the server hardware to suit the intended application)