Q-MXU ™

Representing MTU (Multi-Tenant-Unit), MCU (Multiple-Corporation-Unit), MDU (Multiple-Dwelling-Unit), etc.


Complete VoIP-based Solution/Service for Voice and Real Time Fax Communication for
Single-Unit or Multiple-Unit Enterprises Anywhere on Planet Earth


Real time Web-based Management Services accessible from a browser anywhere on the Internet with 4 levels of secured access control 4-Levels of detailed Billing and Call Accounting in a Hierarchy Arrangement or a Food Chain Arrangement




Reliable, High-Quality, Low-Cost Call Termination/Completion Service to any Telephone Directory Number anywhere, Fixed Line or Mobile for Users of Fixed Line or Mobile (Cellular) Telephones

Service Platform Requirement
The service platform consists of QiiQ Communications Inc.'s Q-Regime, Q-Bill-R and Q-MXU Server. One may acquire the integrated system from QiiQ and operate it as an ITSP (Internet Telephony Service Provider) to provide VoIP-based services to clients. This would imply that one has to also maintain the service platform and establish and maintain relationships with carriers for call termination services – an undertaking that requires a great deal of knowledge of network management and of the VoIP industry.
A better approach is to take advantage of the established service platform of Ecocarrier Inc. for all the OSS (operation support system) functions and simply use Ecocarrier's service platform and call termination services.

Internet Access Infrastructure Requirement
Ideally the enterprise user should have access to Internet via Broadband Network such as ADSL or Cable Network or its own WAN (Wide Area Network).
For the individual personnel in a SOHO situation with no available broadband facility, one may make use of single-port VoIP gateway with built-in 56K modem (QiiQ's Q-1FXS+56K) or an IP Phone with built-in 56K modem (QiiQ's Q-Fone-XUV2) for dialing up to the local ISP for Internet access.
Where such facility is not available, Internet access can be obtained by infrastructure build-out based on
(a) Fixed Wireless installation such as 2.4 GHz, 5.8 GHz solution in the license-free ISM Band or 3.5 GHz solution the licensed 3.5 GHz Band or
(b) Satellite Ground Equipment support by Satellite and Teleport services for satellite transport and Internet access

Infrastructure for a Campus or a CondoPlex Environment
An effective and cost-efficient way of infrastructure build-out to provide broadband facility in a campus environment is to employ QiiQ's VDSL (Very High Speed Digital Subscriber Line) solution.
This can be integrated with above-mentioned Fixed Wireless installation or Satellite-Ground Equipment installation using QiiQ's Q-isoPortal server.

VoIP gateways and IP Phones required for accessing the Q-MXU service
Please refer to the network diagram below that depicts the various kinds of endpoint devices that can be used for accessing the Q-MXU service for making VoIP calls either in a postpaid operation or prepaid operation.
VoIP gateways, IP Phones or Softphone to suit every user situation:
(a) At the Head Office use large VoIP gateways/switches such as
Tenor CMS 480, CMS 960
Tenor DX2024, DX2030, DX4048, DX4060, DX6120, and DX8120

(b) At the large branch office/unit use
Tenor DX2024, DX2030
Tenor Analog AXT1600/2400, AXG1600/2400, AXE1600/2400, AXM1600/2400
(c) At the small branch/unit use
Tenor Analog ASG200/400, ASM200/400
Tenor Analog AXT800, AXG800, AXE800, AXM800
VoIP!Edge Q-4FXS
VoIP!Edge Q-2FXS-2FXO
(d) At the SOHO use
VoIP!Edge Q-2FXS
VoIP!Edge Q-1FXS-1FXO, Q-2FXS-2FXO
VoIP!Edge Q-1FXS+56K
Q-Desk-Fone-BLF
Q-Fone-SOHO
Q-Fone-XUV2
Q-WiFi-Fone-XUV
Ecofone
(e) At each corporation's individual personnel's desktop use
VoIP!Edge Q-1FXS+56K
Q-Desk-Fone-BLF
Q-Fone-SOHO
Q-Fone-XUV2
Q-WiFi-Fone-XUV
Ecofone
Note that in (a), (b) and (c) above, the VoIP gateways/switches can be integrated with the enterprises' branch offices' existing PBXs.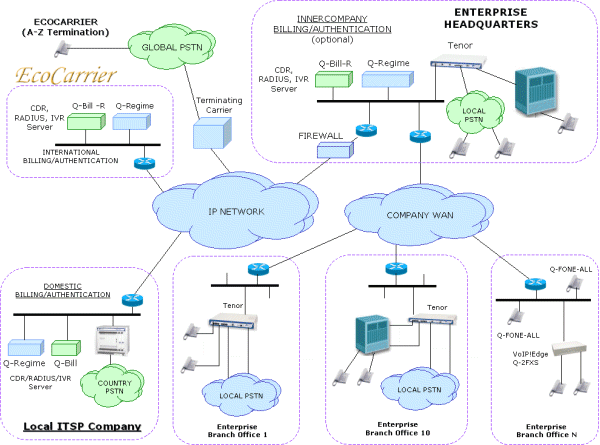 Servicing users/subscribers with no VoIP endpoint devices
(a) Subscribers to the Q-MXU solution/service who are away from their office or SOHO may make use of the service to make long distance calls by simply dialing into the local VoIP gateway of their office to access the Q-MXU service platform to make long distance calls through Ecocarrier's VoIP network. The use of a PIN (Personal Identification Number) is required in this case.
(b) Personnel of the enterprise who are subscribers to the Q-MXU service and who do not have any VoIP endpoint device installed in their homes, may make use of the Q-MXU service to make long distance calls by simply dialing into the local VoIP gateway of the enterprise to access Q-MXU's service platform to make long distance calls through Ecocarrier's VoIP network.
The use of a PIN (Personal Identification Number), in this case, is not required in this case as theQ-MXU service platform can do authentication of the subscriber's status based on the ANI (Automatic Number Identification) or Caller ID feature of the local telephone exchange to identify the subscriber's calling line.

Q-MXU Management Service Features
Q-MXU provides a service platform through which an authorized user with the appropriate User Name and Password may log on to from a browser to
(a) obtain various operation and management data
(b) manage the account of an authorized user subscriber
(c) create and generate new PINs and set up new accounts
(d) suspend or remove a PIN
(e) generate an invoice or CDR (Call Details Record) report according to PIN or subscriber account, or IP addresses or ID of the branch office/unit's VoIP gateway/switch or IP Phones
(f) update or add a Rate Table for Sell Rates
(g) monitor the activity of a port (line) of an endpoint device that has been registered with the Q-MXU service platform
(h) route calls by Least Cost Routing regime based on rules that include ASR and per minute cost consideration
(i) calculate the total costs of the calls based on the per minute rates of the carriers whose routes were selected for carrying the VoIP call
(j) generate statistical reports of system performance and calculation of profits/savings for any one defined period
(k) provide various other useful data and
(l) carry out various other useful management / operation functions.

Optional Useful Services Available
The enterprise can also take advantage of the various cost-saving productivity-enhancing services available from Ecocarrier's service platform. These include

Q-CallShop service
www.qcallshop.com