Q-Regime ™

A carrier-grade Softswitch for deployment by small and mid-sized ITSP in handling VoIP call traffic originating from H323-compliant or SIP-compliant

*

endpoints (VoIP gateways or IP Phones or softphone) and Gatekeeper or softswitch for call termination to/through H323-compliant or SIP-compliant* endpoint of Gatekeeper or softswitch.
Essentially a Gatekeeper, H323 Proxy, SIP-to-H323 Translator*, H323-to-SIP Translator*, RADIUS Client and IP-based IVR incorporated with all the features required for Call Routing, Call Control, Gateways and Port Monitoring, CDR Generation, and Network Security functions to support an ITSP operation with multiple levels of resellers in gateway termination and/or prepaid calling card operation.
When integrated with Q-Bill-R and Q-CallShop Servers, it provides the ASP functions for Q-CallShop service at www.qcallshop.com.
When integrated with Q-Bill-R and Q-Commerce Servers, it becomes the eCommerce platform for Ecocall (PC to Phone), Ecocard (Prepaid Calling Card) and C2ToIP (Click to Talk over IP) services at www.ecocarrier.com.
Together with Q-Bill-R and Q-Manager Servers, it forms a complete solution excellent for building a rapidly growing ITSP business operation
* = optional

Outstanding Attributes

Q-Regime is designed with architecture and functionality that support

ITSP selling call termination services through multiple-levels of resellers either facility-based or non-facility-based
ITSP specialized in selling to Residential Markets – using Calling Line Number (CLI) for authentication
ITSP specialized in selling to Enterprise Markets (corporations) – using CLI for authentication and working with private IP addresses
VoIP-based Call Back Call Operation
In-country access through Local Access Number or Toll-Free Access Number – working with DNIS (Dialed Number Identification Service)

Q-Regime is designed with architecture and functionality that supports multiple carriers for call routing to a city/country dial code with selection by Least Cost Routing according to certain rules such as Day and Time, Network Condition Parameters, and Service Level Agreement
Q-Regime is designed with architecture and functionality that support real-time monitoring of the operation of gateways and their ports status
Q-Regime has proven reliable, stable performance in peak-load operation
Q-Regime is priced to be affordable to all ITSP large and small with small threshold/start-up cost and low license fee per incremental concurrent VoIP call session (conversation) for capacity
Other Functional Features

Address Translation service translates phone numbers (or aliases) to network addresses of destination devices so that calls can be routed across networks.

Admissions Control service authorizes registered endpoints to make calls. The service authorizes/denies network access on a basis of the following criteria: call authorization, bandwidth and gateway availability, matching supported codecs, source IP address, etc.

Bandwidth Control service controls and monitors H.323 bandwidth usage in order to ensure optimal performance and provide superior QoS. This service helps to protect other network applications from H.323 traffic.

Zone Control and Management provides all defined call control services to all registered endpoints in the gatekeeper's zone.

Bandwidth Management controls and limits the number of devices that are allowed to simultaneously use the network. QiiQ Q-UPS+ used with Q-Regime-PS* reduces the bandwidth required for VoIP conversation by 40% - 48%. Q-UPS+ is for use with any H323 compliant VoIP gateway, that is by/of itself without packetsaver feature, for routing calls, through Q-Regime-PS, to terminating VoIP gateways that are by/of themselves without the packetsaver feature.

Intelligent Call Routing Mechanism routes a call to the best available gateway. The call routing is based on the following criteria: caller/callee IDs, gateway availability, link characteristics (cost, QoS, available bandwidth).

Call Authorization Mechanism authorizes access to a particular H.323 terminal using H.225.0 signaling. The network administrator can define a flexible security policy for controlling access to/from particular terminals or gateways based on type of service, gateway restrictions, and restricted access during certain periods of time.

Call Management maintains a list of ongoing H.323 calls and provides an effective mechanism for controlling those calls (displaying call statistics, call termination, call simulation, etc.).

Billing Information. Q-Regime generates detailed billing records for each call and synchronously stores them as text files. Thus, you are not limited to a particular billing system and may use virtually any solution of your choice for processing billing information.

H.323 Proxy works as a H.323 traffic concentrator passing H.323 traffic through. The signaling (H.225 including FastStart, H.245) is always tunneled. Depending on a selected call destination, Q-Regime may optionally let all media traffic (RTP/RTCP) for particular calls pass through. The network administrator can control the priority sequence of tunneled media traffic by setting an appropriate value of precedence field within outgoing IP packets.

Dialed Number Translation feature lets the network administrator create and maintain flexible dial plans to suit your application.

Easy Configuration. Q-Regime is equipped with a fast and easy-to-use administration and configuration interface, which facilitates updating system configuration without interruption of service.

Reliable and Fault-Tolerant service. Q-Regime is designed and implemented as a reliable and fault-tolerant service to ensure a high level of availability. It incorporates local and remote monitors that perform continuous monitoring and take appropriate actions in case of service failure. Additionally, Q-Regime utilizes different messaging facilities so as to notify a system administrator of real or possible service failures.

Supported Protocols
H.323 v.3, including Annex F Fast Start
RTP/RTCP
H.245 v.7
H.225 v.4
T.38 Real Time Fax
SIP (optional)
SIP to H.323 automatic translation (optional)
H.323 to SIP automatic translation (optional)

Supported Codecs
G.723.1, G.729AB, G.711 with automatic codec negotiation

Compatibility
EcoFone (QiiQ's softphone)
VoIP!Edge Q-2FXS, Q-4FXS
VoIP!Edge Q-1FXS-1FXO, Q-2FXS-2FXO
VoIP!Edge Q-1FXS+56K
Airello Q-WiFi-Fone
VoIP!Phone Q-FONE-XUV2
VoIP!Phone Q-FONE-SOHO
Tenor Analog ASG200/400, ASM200/400
Tenor Analog AXT800/1600/2400
Tenor Analog AXG800/1600/2400
Tenor Analog AXE800/1600/2400
Tenor Analog AXM800/1600/2400
Tenor Digital DX 2008/2016/2024/2030/4048/4060/6120/8120/2048/2060/4096/4120
Tenor CMS 240, CMS 960
Cisco ATA-186, AS5300, AS5350, AS5400, AS5600 series, AS3600 series
Microsoft NetMeeting
Other H323-compliant and SIP-compliant VoIP gateways and IP phones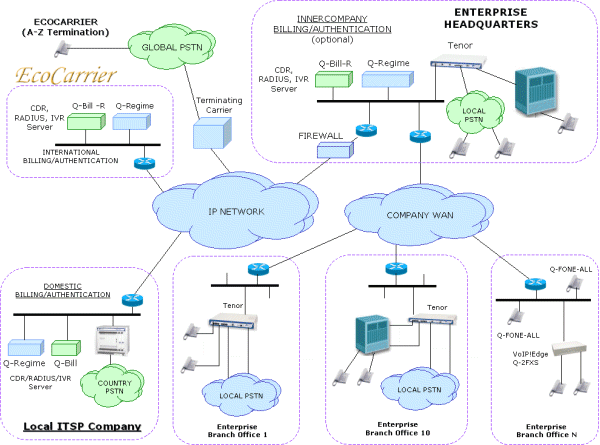 FAQ on Q-Regime and the Q-Regime, Q-Bill-R and Q-Manager Combination
1. What are major differences between a standalone Tenor GateKeeper (by Quintum) and Q-Regime?
Q-Regime has great deal more functional capability than Tenor GateKeeper. It has the combined functional capability of Tenor GateKeeper, Tenor Call Relay and Tenor Routing Server and additionally an IP-based IVR server.
Q-Regime is a
Gatekeeper - useful for managing the inbound and outbound call routing of a network of gateways registered with it
H323 Proxy - useful for working with private IP address behind a firewall and also for hiding the identity of the originating gateway and terminating gateway from each other
RADIUS Client for CDR generation to RADIUS protocol - useful for providing CDR generation capability to VoIP gateways and IP Phones that in/of themselves are without CDR generation ability
IVR Server - when used in conjunction with Q-Bill-R to provide the capability for prepaid calling card function
When used in conjunction with Q-Bill-R, Q-Regime can provide prepaid calling card capability to any H323-compliant and SIP-compliant (optional) gateways, IP Phones and SoftPhones.

2. How does the Q-Regime, Q-Bill-R and Q-Manager combination compare functionally with other comparable integrated system for building VoIP-based service platform?
The Q-Regime/Q-Bill-R combination is designed to enable the ITSP to employ it
to optimize on ways of revenue generation – beneath the ITSP you may have 2, 3 or more levels of resellers promoting and selling the call termination or call origination service to between 2 levels of resellers and/or between a reseller and the end-user;
the system allows you to set Buy Rates and Sell Rates between any 2 levels from ITSP to the end-user;

the owner/operator of one level can bill the level or levels below it for access to services and/or increase in capacity of call routing and call billing on one-time or monthly recurring basis.
to achieve cost saving or reduction without compromising on quality of service – you have flexible Least Cost Routing capability;
You can have multiple carriers defined for call routing to any one city/country dial code and configure the rule-based Least Cost Routing function such that it will select a certain carrier for routing the call according to Day and Time, network condition parameters and costs and other considerations.
to avail the ITSP itself to future expansion into highly profitable business operations by adding


Q-CallShop Server – for setting up CallShops with the most complete features at lowest costs
Q-Commerce – for operation of an eCommerce operation for PC-to-Phone service, Prepaid Calling Card Service and Click-to-Talk over IP service
Q-CallBack – for an International Call Back Service for certain kinds of markets
Q-GoldLine – for a service that offers Local Access No. or In-Country Access No. to subscribers to the Q-Regime/Q-Bill-R system to make low-cost international calls or GSM roaming calls
Q-IPCentrex – for a service that enables a subscriber to use low-cost SIP Phones to get powerful functional features of large PBXs without going to the expense of owning even a small key system – never mind a PBX.
Q-Regime/Q-Bill-R/Q-Manager combination is therefore a good investment for now and for future growth.
3. How is Q-Regime/Q-Bill-R/Q-Manager priced? How does its pricing compare to others?
The combined system is priced to be affordable to any ITSP – small and large. The starter system is the lowest priced system of its kind in the market.

The incremental cost for additional system capacity for call routing and call billing of concurrent VoIP call sessions is also priced very low. In all cases the incremental cost is paid for by increase in profit of the first 1-2 months of the implementation of the added capacity.

The license for use of Q-Bill and Q-Regime are priced according to their capacity for managing/handling a certain number of concurrent VoIP call sessions. If you prefer to gauge the capacity by the total number of minutes that the system is licensed to manage, you may arrive at the figure using the formula

Total monthly minutes = 15,000 minutes x total number of concurrent VoIP call sessions

When comparing the price of Q-Regime/Q-Bill system with that of a system such as Voicemaster's, please note the following important differences:

Voicemaster is priced such that you pay a certain price amount for a basic system and then you pay additionally for added features by buying them in modules which range in price from US$500 to US$8000 per module – the average price per module is US$2000.

Voicemaster's definition of system capacity is based on the number of registered ports and the limit set for total number of minutes of traffic per month.

Please note that there is a big difference between the capacity based on number of registered ports and capacity based on total concurrent VoIP call sessions. They are totally different. "Total concurrent VoIP call sessions (or conversations)" means at any one time, the system can support up to that number of VoIP call sessions or conversations.

Please note as well that Q-Bill is offered in 3 standard packages, namely Q-Bill-Q, Q-Bill-QC and Q-Bill-R. Each package is complete with all the features that you need for supporting the intended application. You DO NOT pay for modules of features after the initial purchase. There is no hidden cost.

We would urge you to ask us for a comparative price quote to demonstrate to you why and how Q-Regime/Q-Bill-R is lower-priced and an overall better value proposition in every case of comparison with Voicemaster or any of the comparable systems being offered in the VoIP space.

3.1. If I need the Q-Regime/Q-Bill-R to do postpaid gateway billing operation only – meaning no Prepaid Calling Card Operation, can you supply such a feature-restricted version at a lower price?
Yes. We would supply Q-Regime/Q-Bill-R combined system or Q-Bill system that is restricted to doing just postpaid gateway billing or just doing call termination billing as per customer requirement at substantially reduced license fees.
4. What is the maximum processing capacity of Q-Regime?

In a single platform, Q-Regime can process 100 call requests per second and can manage at least 18,000 calls concurrently at any one time, each call being of an average duration of 3 minutes.

5. What is the Operating System for Q-Regime?

Q-Regime runs in Linux operating system supporting RedHat 7.2 or newer. A separate version that runs in Windows NT Server, Windows NT Workstation, Windows 2000 Server, and Windows 2000 Professional is also available.

6. Is Q-Regime built with open-source public domain software?

No. Q-Regime is entirely our own original development. The H323 and SIP stacks are also our development. It is developed to have the highest efficiency in operation.

Since it is our own codes we are able to efficiently and effectively make improvement and add features enhancement to Q-Regime continually.

These facts speak to the assurance that Q-Regime is a reliable, well-supported, feature-rich softswitch.